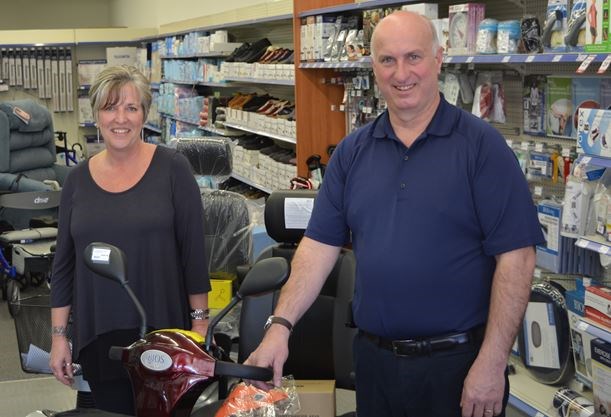 OPEN FOR BUSINESS – Walsh's Heath & Lifestyle Centre is now open for business at 101 Main Street S. in Mount Forest. The store opened on April 26, and features 1,200 square feet of home health care products. Pictured at the store last week are, from left: Nancy Hartman, home health care specialist and owner Joe Walsh. - Mike Wilson/Metroland Photo
MOUNT FOREST — Walking Main Street in Mount Forest, it's hard not to notice that the storefront at the corner of Main and Wellington is no longer vacant.
On April 26, the doors opened at Walsh's Health & Lifestyle Centre, making it the newest business in Mount Forest's downtown.
The store is technically an expansion of Walsh's IDA, which is located two doors away on Main Street. Owner Joe Walsh said that since taking over the Mount Forest location in 2014, the need for health and lifestyle products has "gone through the roof."
"We outgrew the space," he said of the 100-square-foot space at the pharmacy that was dedicated to the products. "The need for home health care products in Mount Forest has gone through the roof … We can't keep it on the shelves, so we knew there was a need for (the expansion)."
The new location features approximately 1,200 square feet of retail space, allowing Walsh's to carry and display a wider range of products.
"The biggest thing is being able to have products out, to allow people to touch and feel them. It makes a big difference," said Nancy Hartman, home health care specialist at Walsh's Health & Lifestyle Centre.
"We have more products, and more space to display it here," said Walsh.
The store offers installation, delivery, consultations on their products, and offer rentals on a large majority of their products.
"Some products, because of health reasons, we cannot rent," said Walsh. "We've had rentals ever since we moved here, but a lot of people didn't know because we didn't have the space."
The store also offers financing options for big ticket items, such as scooters.